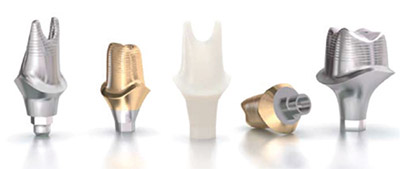 ATLANTIS abutments are individually designed abutments for implant based, cement-retained restorations. Through the use of the patented ATLANTIS VAD software each ATLANTIS abutment is individually designed from the final tooth shape for outstanding function and esthetics.
Indications: ATLANTIS abutments (cement-retained) are indicated for all positions in the mouth and support single, partial and full jaw cement-retained restorations.
Materials: ATLANTIS abutments allow you the freedom to choose among biocompatible materials for each case. ATLANTIS abutments for cement-retained restorations are produced in titanium, gold-shaded titanium and four shades of zirconia.
ATLANTIS abutments offer several advantages compared to stock abutments:
Optimal support and retention of the final restoration
Optimal emergence profile for a natural esthetic result
Margins can be placed at an ideal level for easy and safe removal of excess cement
Require no chair side modification
Produced by state-of-the-art milling process to ensure highest precision and quality – every time
Eliminate the time needed for managing a pre-fabricated abutment inventory
Are available for all major implant systems and in the biocompatible materials you want
Product Information
Warranty: 5 years or Lifetime (as per manufacturer's warranty)
Download Atlantis Abutment Product Flyer
Download Material Reference Guide